21 August 2023
Mainfreight's Exciting Expansion: Unveiling Our New Airfreight and Perishables Site in Brisbane, Queensland
We recently welcomed customers and our team to join us at the opening of our newest branch in Brisbane, Queensland. This dedicated airfreight & perishables facility has been purposefully constructed to manage an extensive array of cargo types and cater to a variety of temperature sensitivities. We are very excited about this new branch and the extended services it enables us to offer our customers.
What you can expect at our dedicated airfreight facility
9 individual temperature-controlled zones
allowing us to us to handle a wide range of freight profiles with different temperature sensitivities.
Six Chillers (0-15 degrees Celsius): These individual areas maintain temperatures ranging from 0 to 15 degrees Celsius, providing an optimal environment for products such as pharmaceuticals, fresh produce and other temperature-sensitive items.
Freezer (-20 to 0 degrees Celsius): The freezer section maintains temperatures as low as -20 degrees Celsius to preserve the integrity of frozen products.
Staging Room (0 to 15 degrees Celsius): This dedicated area for our team to handle perishable products.
Dry Freight/Ambient Area (15 to 25 degrees Celsius): With ambient temperature control between 15 and 25 degrees Celsius, this zone is well-suited for handling general cargo and goods that do not require specific temperature regulation.
Two large fumigation enclosures
that are equipped to treat up to 40 pallets at once, streamlining the fumigation process and reducing turnaround times.
Multiple loading docks
providing full end-to-end cold chain from truck to depot. Our recessed loading docks allow product to remain at their required temperatures during loading and unloading process.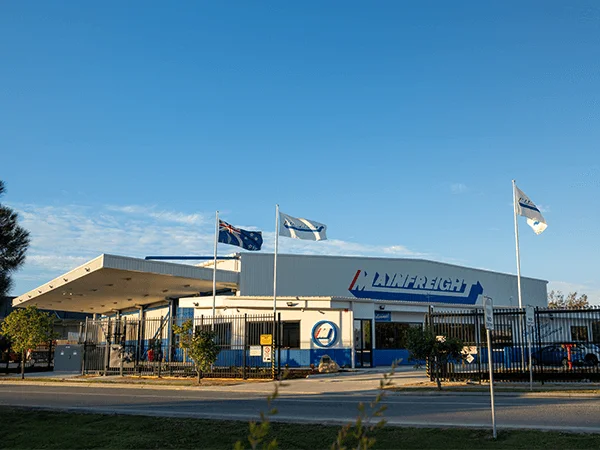 Built with environmental design principles
Like our new buildings worldwide, our Brisbane airfreight site was designed and constructed with environmental principles in mind. These include:
Water efficient landscaping
Major solar installations to power our office and operations
Smart lighting across the facility to minimise electricity where possible
Electric (EV) charge points to charge our expanding fleet of electric trucks and business vehicles
Come and say hi
If you would like to see the site for yourself or have any questions about our services, please do not hesitate to contact us.
Contact us
Mainfreight Brisbane Airfreight Opening