Customs Brokerage
Navigating global shipping regulations can be complex due to differing requirements from country to country. Our dedicated in-house customs brokerage team simplifies the process by handling all administrative procedures, such as quarantine and duty adjustments. By relying on our team, you can minimise compliance risks and expenses linked to delivering your goods to their intended destination.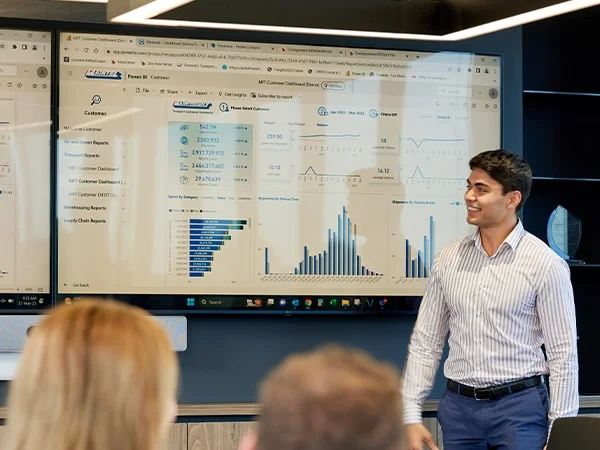 Customs Clearance Service
Customs audits which analyse reports and identify duty refund opportunities
Tariff concession orders
Free Trade Agreement (FTA) assessment
Compilation of costing information to establish correct cargo values
Tariff classification advice and listing
Clearing live entries
GST enquiries and application to the Australian Tax Office for GST decisions
Technical valuation and legislation advice
Landed costing
Remote client access
Department of Agriculture (quarantine) consultancy
Wine Equalisation Tax (WET) and Luxury car tax (LCT)
How we can help you move freight internationally
Tap into our expertise
Our customs consultancy service can provide expert knowledge with the clear objective to deliver significant cost saving initiatives and innovation within this vital part of the supply chain.
Gain faster access to market
We are proud to be an accredited Australian Trusted Trader which helps us simplify the customs process and accelerate the flow of cargo in and out of Australia.
Manage biosecurity risks
Our depots and warehouses are approved by the Department of Agriculture, Water and the Environment (DAWE) to manage and perform the documentary assessment to streamline quality inspections of your goods.
Landed Costing Reports
We can provide landed costing reports. This will cover all costs up to delivery for each unit/line of your suppliers invoice accurately apportioning duty and sales tax costs if applicable and freight by weight, volume or value.
Documentary Requirements for Overseas Countries
As a global business, we have at hand the details of specific document requirements needed in Australia and around the world. This includes invoicing, country of origin certificates, quarantine, trademarking, prohibitions and restrictions.
Global Reach, Local Service
Our in-house licensed customs brokers are located in each branch, making decisions as close to the operations and our customers as possible.
Ready to simplify your international trade?