Advanced Warehousing Technology
As a Mainfreight customer, you can be confident that Mainfreight is committed to investing in advanced warehousing technology.
Autonomous Mobile Robot
What is Autonomous Mobile Robot technology?

Autonomous mobile robots (AMRs) are a class of automated machines that can understand, sort and navigate to move materials efficiently and accurately from storage to point of picking.

How does it work?

The AMR's move along the floor with a physical grid program setup to collect the shelving to bring to the team member at the point of picking opening. Integrated with our warehouse management system, MIMs, orders are assigned to the AMR and a pre-determined pick path is allocated. The assigned AMR's will travel to the required shelving, identified by a QR code built beneath the rack which is scanned and confirmed through the AMR's built-in scanners. The AMR then brings the shelving to the picker, reducing travel time and allowing for multiple orders to be picked at once.

What are the benefits?

The benefits of an AMR solutions lie in its "autonomy". With its automated storage and its unique retrieval system, AMR provides a higher storage capacity, lower labour costs, faster deployment and an increase in productivity whilst maintaining and achieving a safer operation for all warehouse personnel involved. The AMR solution is adaptable and can be customised dependent on the size of the operation.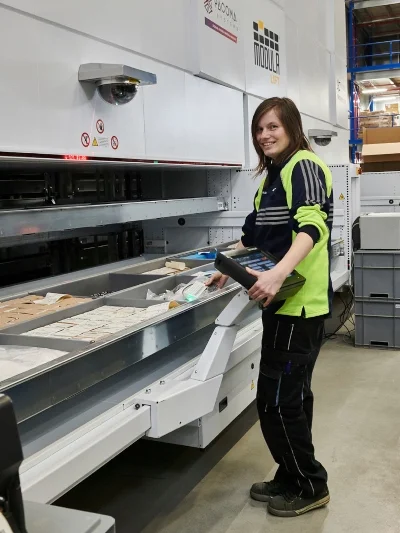 Vertical Lift Module (VLM)
How does the VLM work?

Traditional picking methods are 'person to goods'. 60% of picking time in this method is in travel time. VLM's are an evolution of carousels which are a 'goods to person' pick method. Goods to person technology aims to reduce the travel time by having the operators work within a small area where the goods are bought to them.

VLM's and carousels look similar from the outside, but where carousels have a continuously revolving chain of stored product inside the vertical module, VLM's have one robotic lift operating up and down inside the module putting up and bringing down products to and from shelves. They are fully customisable and scalable depending on the application.
What are the benefits?

This technology enables a high level of efficiency and accuracy when picking small units across multiple SKU's / products. The other advantage is security. The only way product can be accessed in the VLM is by operators picking orders or putting stock away.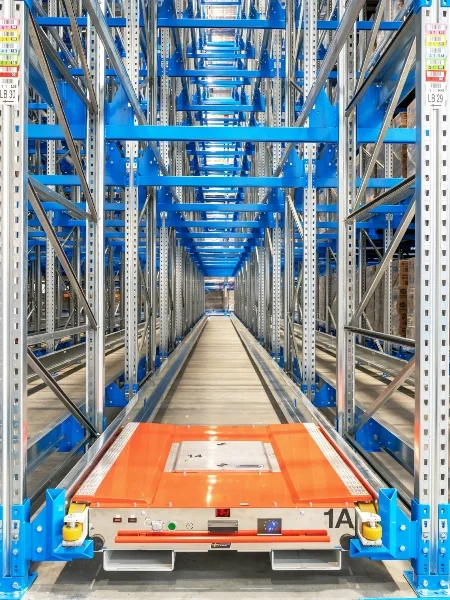 Satellite Racking
How does satellite racking work?

This technology is primarily related to storage efficiency. Most of our warehousing footprint is set up with selective racking. Within this environment there is a lot of space taken up with aisles and drive throughs. With satellite racking, you can start with any size bulk environment and build a racking system that significantly increases the storage density of product. There are no aisles or drive throughs, just access required from one or two ends of the satellite racking environment.

For inbound operations, the team place pallets at an end location in the racking, robots move through the racking to pick up the pallet and move it back into the correct storage location. For outbound, the robots are told to pick up a specific pallet and bring it to the end for the operator to pick the pallet

What customers does this technology suit?

This environment is most effective for customers who move high volumes of a low number of SKU's, where first in, first out (FIFO) rules apply.

What are the benefits?

A well utilised satellite racking environment means more pallets per square metre, which reduces storage costs.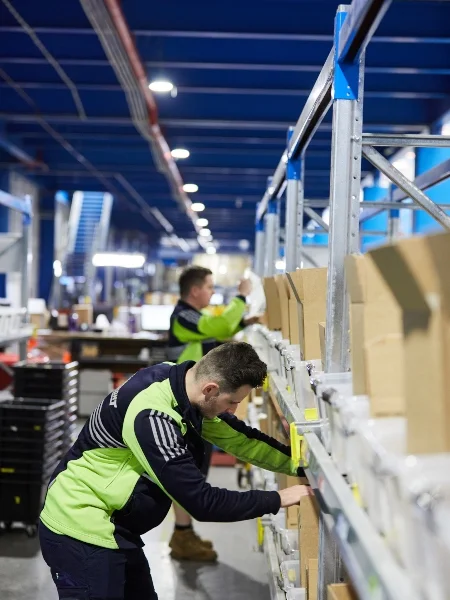 Put Wall
What is put wall technology?

The put wall is a combination of picking and despatch methods. One put wall allows us to pick up to 50 orders at once.

How does it work?

The system directs the operator through the inventory locations one at a time to pick all products required to complete all orders (up to 50 at one time). Once all the product is picked, the system then allows the team to deconsolidate the multi pick into the individual customer orders, (with the help of our RF devices) into locations within put wall. Once the products are put into the wall, green lights flash signifying the orders that are complete. The cartons are then closed and labelled to be despatched through Mainfreight or our parcel carriers network.

What customers does this technology suit?

This technology allows us to process larger volumes of small orders more accurately than traditional methods. This is a great solution for e-commerce order profiles.

What are the benefits?

The greatest advantage this technology provides is the ability to flex with substantial changes in volume. This is particularly valuable to customers who may come across situations where campaigns, promotions or backorders result in a significant increase in orders in a short period of time. For example, in Epping we have four put walls, and so far, our record for most orders processed in one day through the put wall environment is 1,350 orders (27 waves through the four put walls).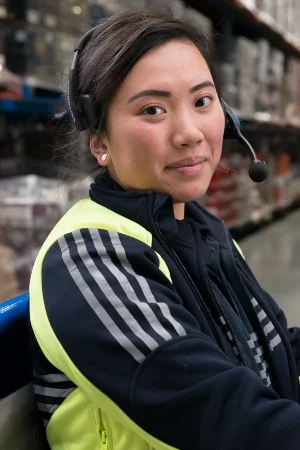 Voice Picking
What is voice picking technology?

Our Australian warehousing business uses A730 Vocollect voice devices. We couple this technology with our Honeywell CT60 RF devices. The headset device provides audio directions and requires verbal feedback at each step to confirm the operator is at the right location, picking the right product in the right quantities. The ideal application of this technology is for high volume unit and carton picking.

How does it work?

When compared to the use of RF devices (handhelds), voice technology is helping our teams achieve approximately 20% productivity improvement.

We also realise accuracy improvements given the team maintain constant eye contact with the task at hand, as opposed to positioning the handheld device in between picking products.

What are the benefits?

Voice technology enables our team to work through more orders per person, more accurately, increasing the possible output of the warehouse. This means we are better equipped to support our customers through peaks in their business.
Have a Question?
If you have a question or would like to find out more about our services, ask us today.
CLICK HERE
Want to talk to someone?
If you would like to talk to someone directly, find your local branch contact details below.
CLICK HERE