Technology
Our investment in technology continues to strengthen our efficiency and productivity. We strive to provide data and statistics that allow us to deliver greater quality while providing transparency to our customers and providing them with an extra layer of intelligence as well as critical supply chain information.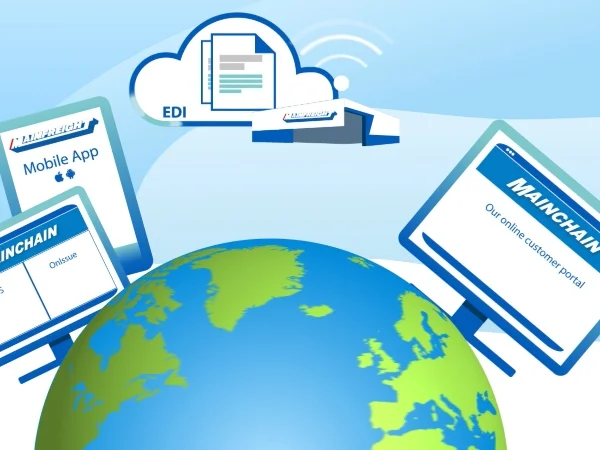 Mainchain Customer Portal
Our global online customer portal that provides all the tools you need to manage your supply chain, anytime, anywhere.
Customised Technology
Owning and developing all our technology systems means we have the flexibility to make software changes as our customers' needs and requirements change. All our applications are designed to give you supply chain visibility and save you time.
Local IT Team
Our dedicated technology team are based in Australia and New Zealand, providing timely information to our team and customers as needed.
Cyber Security
We have a dedicated cyber security team responsible for the development of our cyber security strategy, which includes:
Behaviour and awareness
Incident management
Vulnerability management
Host security
Network security
Please contact our team if you require more information on our cyber security strategy.
Integrations
Through EDI integration you can directly link your systems to ours for total visibility and control within your own business environment. EDI Intergration will:

Save you time
Improve accuracy by removing data entry
Eliminate time spent training your team on a new system
Supply Chain Management
Although there are many segments to the supply chain, our technology pulls all the information from our Air & Ocean, Warehousing and Transport services to provide full visibility through our global customer portal, Mainchain. To gain greater understanding of the value
Mainchain can bring to your business read on here.
Centralised Communication
Enquiries are prioritised and reported on in one central point. You can:
Create and receive an issue for a shipment
Filter issues through classification including:

Bookings amendments
Documentation
Damage
Delay
Invoice error
Loss
Customs clearance error
Stock variance
Billing accuracy
Labelling
Missing
Claim (Quality Assurance Program)
Automatic reminders and escalation ensure prompt attention to all enquiries lodged. If a team member is away, the task is automatically forwarded to the Team Leader to action in their absence.

Automatic emails are sent, notifying you when a task is updated or resolved and tracks the steps and the team members who have helped resolve it.
Air & Ocean Technology
Want to learn more about the value Mainchain brings our Air & Ocean Customers?
CLICK HERE
Warehousing Technology
Want to know more about the value Mainchain brings our Warehousing Customers?
CLICK HERE
Domestic Transport Technology
Want to know more about the value Mainchain brings our Domestic Transport Customers?
CLICK HERE